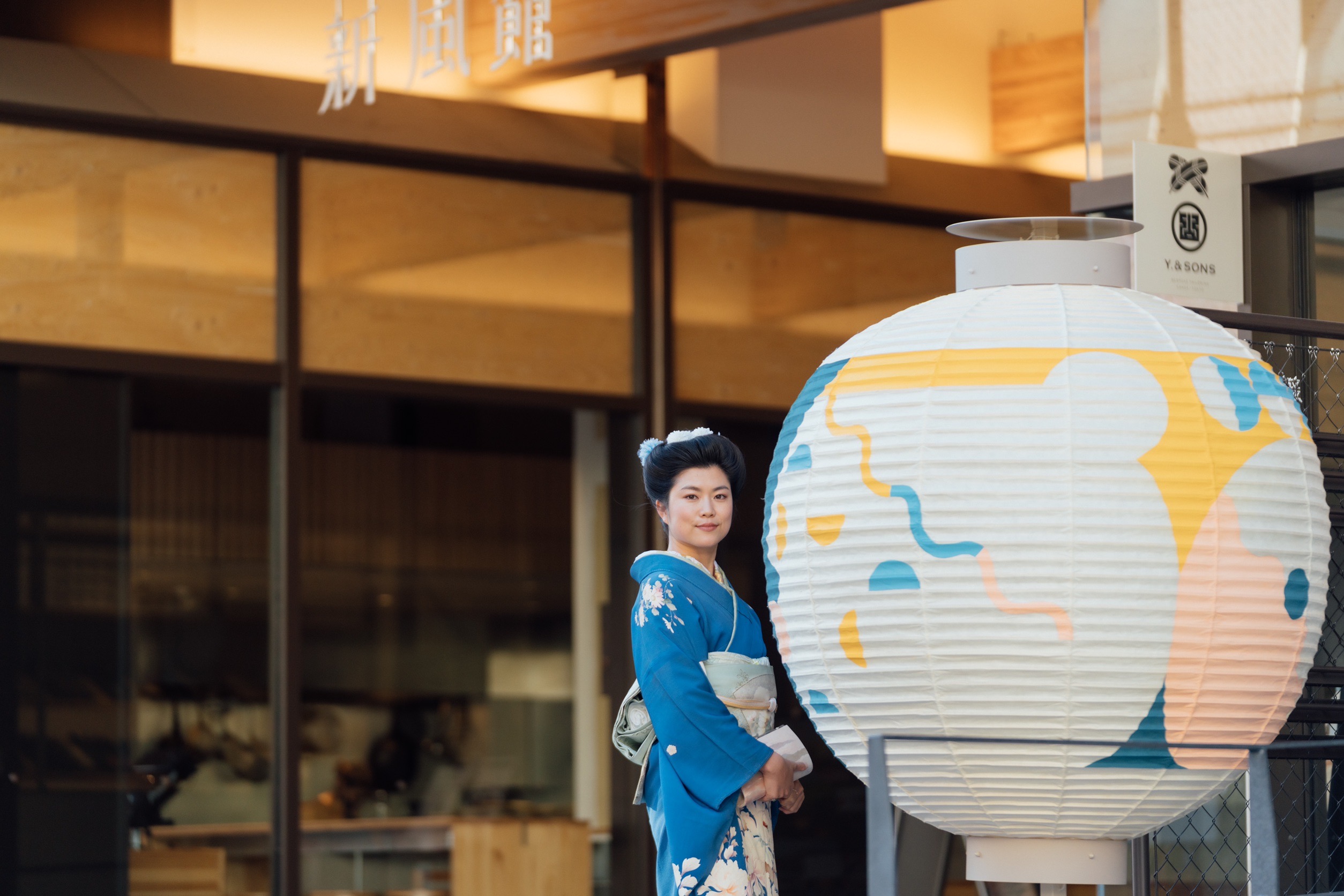 Art/Design
Draw the Circle Installation- A Kojima Shouten x Miz Tsuji collaboration
KYOTO
Something I truly love about Kyoto is its creative community which is made up of wonderful individuals who come from various disciplines. For instance, at a party in Kyoto, you may find a fashionable monk mingling with a graffiti artist, a barista, a creative-director, and a ceramist. It may be a mish mash, but we all share the same goal of 'preserving tradition while moving forward'. I love being part of this creative community and I'm constantly in awe of how special and talented it is.
The 'Draw the Circle' installation, currently displayed at the Shinpukan, is the perfect representation of this new Kyoto, and the mixed culture of this city. For this project, designer Miz Tsuji collaborated with traditional lantern makers Kojima Shouten. Takuma Inoue, the creative director of the project says originally he was asked to produce some Christmas decorations for the space but he wanted to do something which was more relevant. "A Christmas tree just didn't seem right. We wanted to represent the culture of this city. I wanted to use the lantern as a canvas to express the mixed creativity of Kyoto. Miz's illustration always tells a story so I thought it would be a perfect collaboration which wasn't just about the visuals but also added some depth".
This 220-year-old family business Kojima Shouten is currently run by Mamoru Kojima-san and his two sons, Shun-san and Ryo-san. Late last month we had the pleasure of visiting their studio in Higashiyama and it was really interesting seeing the family work together. Like any other family, they quarrel and tease each other, but at the end of the day they are a tight unit, creating masterpieces that represent venerable craftsmanship.
Curated Kyoto briefly caught up with Designer Miz Tsuji to talk about the project.

SA: What was it like working on this project with Kojima Shouten? What was the highlight?
MT: Working with them was extremely exciting, but at the same time intimidating. I remember I was so scared to show them my design at the first meeting.
I've never seen them paint illustrations which were similar to my style, but the Oyakata (the head of the team) looked at my design and said, "You know it looks a little hard to paint these…but it looks fun!"
One of the highlights was going there a few times to help them paint on the lanterns. As they are highly respected craftsmen, I always got nervous before going there, however, they were such warm people. I always loved seeing them joke around, and it was nice being a part of their big family (there were always children and wives hanging around the studio). They made me feel so comfortable.
SA: You have beautiful pictures drawn on the lanterns, what were some of your inspirations?
MT: I wanted to draw some Christmas and New Year's imagery, as the lanterns are displayed for a month during the holiday season.
However, one drawing is of my best friend from my childhood, and her girlfriend. Last time I saw my friend, she told me her parents didn't understand her relationship with a girl – she felt like she had no home to go back to for New Year's. So I drew these images to wish them luck and happiness for the holiday season.
SA: Kyoto has such a diverse creative community, what do you love about this community?
MT: I love the community because there are new things, but also old things complimenting the new. People in the community really appreciate the traditional side of these creatives, but also, I think in the last few years, craftsmen like Kojima Shouten have really opened up to collaborating with different artists and changed the way they work.
SA: How do you want people to feel when they see your lanterns?
MT: I simply wanted to brighten up the space during these hard times! Even though it's been almost one year since COVID-19 started, I still feel very up and down about the situation. I wanted to create something that also made me feel happy and excited about the holiday season. Also, lanterns are normally made for festivals, like the ones small communities celebrate, or big ones like the Gion festival. But because of the declining birth-rate in Japan and COVID-19, there are less opportunities to see traditional lanterns. I want people to enjoy beautiful lanterns with a new perspective and in different situations, especially children who can carry on the tradition so it doesn't die.
The exhibition will be on till January 15th 2021 at the Shinpukan.
Words: Sara Aiko
Photos: Mitsuru Wakabayashi