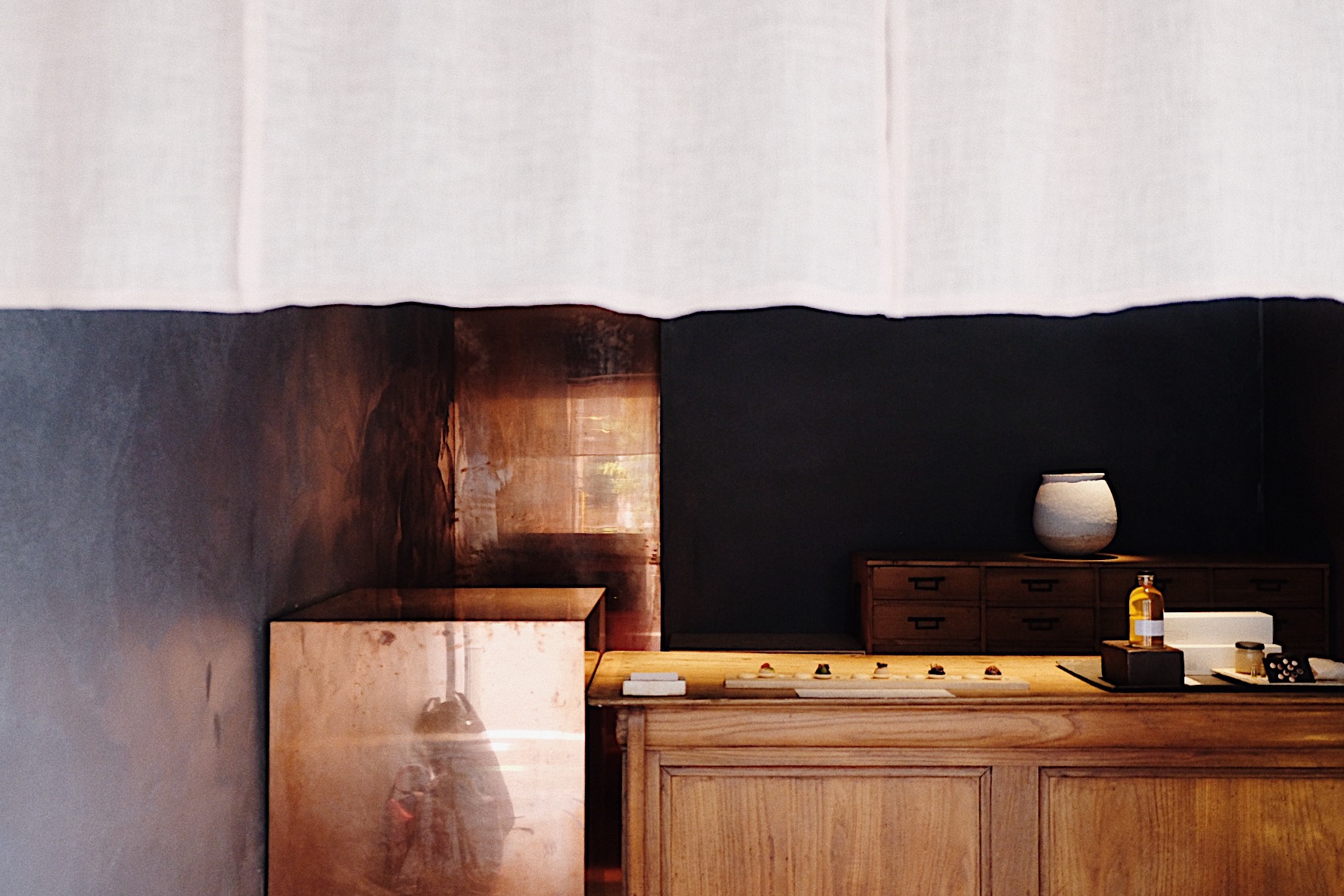 Spaces
Mitomi- Oh, You Sweet Thing
OSAKA
In Japan, we have this word "betsubara", meaning "second stomach". It's what we use when we're so stinkin' full but we still have room for dessert because dessert is a good thang and turning it down will just be rude… So there it goes into our "second stomach"! It's a word I use often to excuse my sweet tooth, because frankly I'm someone who would gladly skip a bowl of rice to indulge in some matcha ice cream.
You can fall back on betasubara for so many occasions here, since Japan is the land of sweets. Many of my clients are surprised to see so many shops and cafes dedicated to parfaits, sweet treats, and bubble tea. My god, bubble tea! Those brown gummy balls ruled Japan last year. People would easily line up for four hours just to get their hands on those sweet, polka-dotted drinks. It was so popular that the sales of tapioca (boba) was 25 times higher than the year before. This is how trends work in Japan. When something becomes popular, it explodes. Obviously Public Enemy's hit song "Don't Believe the Hype" didn't reach the hearts of this nation.
I'm already 200 words in and I've only talked about bubble tea and Flava Flav, so obviously I'm getting side-tracked. I wanted to talk about a beautiful shop in Osaka called Mitomi, which specializes in monaka. They only sell monaka, but it comes in different forms!
Monaka is a Japanese sweet that consists of azuki (red bean) paste sandwiched between two wafers made from mochi. There's something about taking a bite of this sweet treat and experiencing the sticky paste inside catching on the crumbling wafer shell. Sensational! The traditional version has red bean paste inside, but now shops like Mitomi are giving the sweet a modern make-over.  This shop, which opened in October of 2019, serves tiny circular monaka with flavours such as black sesame and caramelized walnuts, matcha, and my favourite: white miso and black fig.
The monaka is a good enough reason to visit, but since owner Kobayashi-san "wanted the shop to be a place where people can enjoy monaka with all of their five senses", the shop itself is very well designed to be a treat for your eyes. The beautiful interior represents "Wa-modern",  a new architectural style which fuses traditional Japanese architecture with modern European design.
Kobayashi-san is a master of creating beautiful spaces designed in the Wa-modern style. He is also the owner of Wad Café, a very popular and stunning café in Osaka that serves a variety of Japanese and Chinese teas.
Places like Mitomi might not have bubble tea-style hype or a line of people waiting outside for five hours, but it's a place that you appreciate all the more because of the thought, love, and passion that goes into it. Hence, I have consulted my bestubara and made the decision to visit Mitomi tomorrow… after our seven course lunch in Osaka.
Words: Sara Aiko
Photos: Sara Aiko
Mitomi: