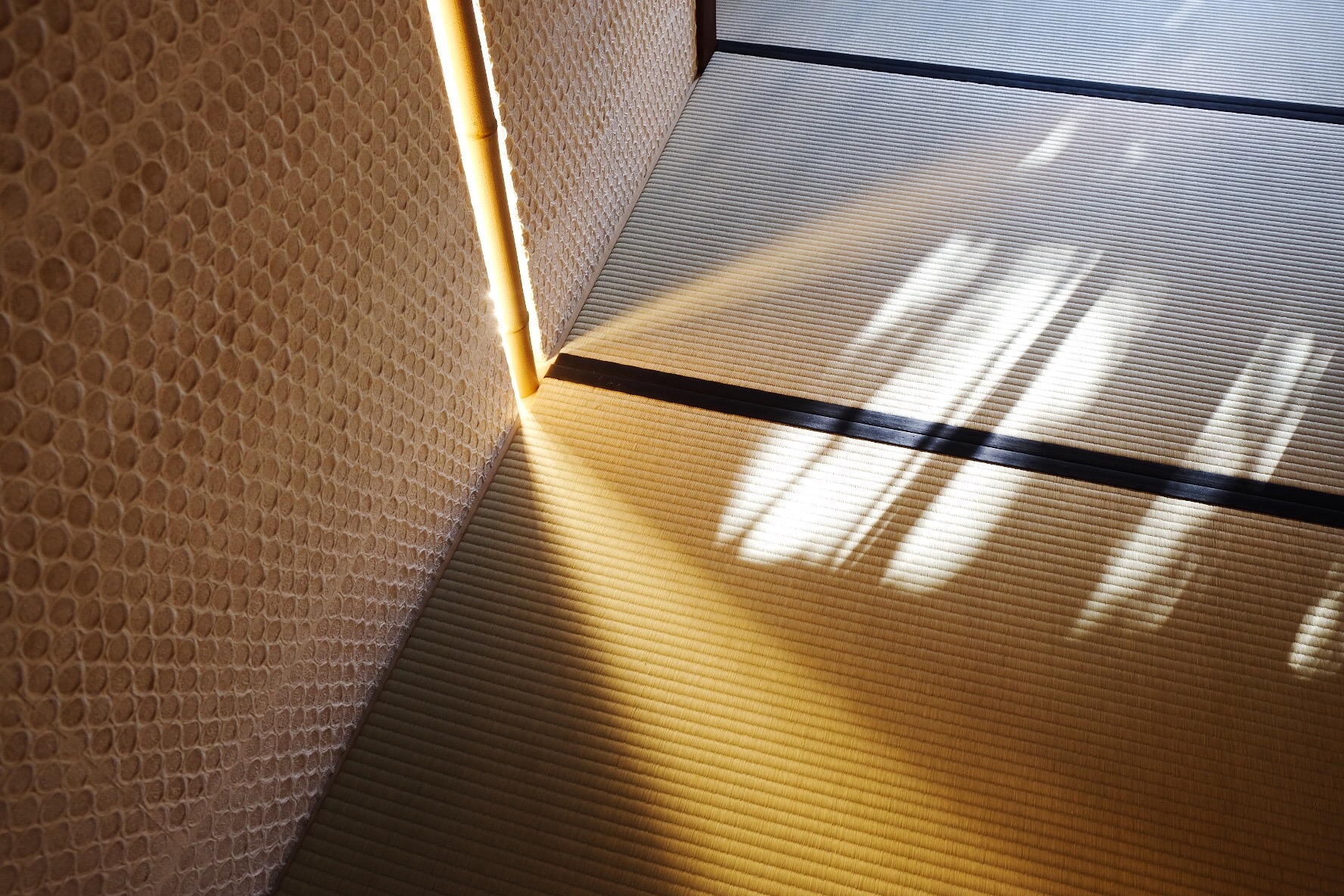 Stay
Hatago Wakatsu- A new ryokan in Shiga Japan
SHIGA
Shiga, no longer just known as the prefecture with the country's largest lake, in the last few years,  creatives have been maximising the beauty of the prefecture and setting up new shops, restaurants, and hotels. Hatago Wakatsu is one such artistic project. The accommodation facility opened in November 2020 in a quiet neighbourhood of Omi Hachimangu – about an 80 minute drive from central Kyoto.
Being located in the lake district, one might think the accommodation offers a generous view of the colossal lake. Well actually no, not one bit, but that's okay because what the accommodation offers is so much better than just a "view". The allure of the stay isn't just about the intriguing history of the 190 year old former Tatami shop, it isn't just about the stunning rooms (one has a generous view of a canal, the other has a bath carved out of stone!!), it isn't just about the decadent dinner which made me forget about my food rules (bye bye rule no. 11: no carbs after 7pm) and it isn't just about the morning walk along the charming canal.
It's about the harmony of all these elements coming together, from start to finish, creating the perfect experience.
Wakatsu's owner Yoshida-san knows a thing or two about cultivating experiences as he used to work in weddings before opening the hatago. Japanese weddings are no joke – from start to finish, every single detail must be perfection, not one grain of rice out of place. This attention to detail, teamed with his love of the wabi-sabi culture (he practices tea ceremonies himself), is what makes Wakatsu a special place where you get to feel and experience the moment. Because yes, being there makes you want to be fully immersed in the present.
When we arrived we were greeted by Yoshida-san and his staff who were wearing traditional black attire – very sleek. Soon after, Yoshida-san ushered us into our room and performed a tea ceremony, which we watched from the little comfy nook in the front room – yes there is a front room, a back room, and also a 'secret' room that only gets revealed during breakfast. So many rooms all to ourselves – what a dream.
He served our matcha in an authentic Raku bowl. I was too scared to ask how much it cost, but I remember holding it in my hands for a very long time. I held it, I drank from it, and I observed it. In a room full of clutter or even fancy décor, I probably wouldn't have taken much notice of the bowl, but in the beautiful, minimally designed room, the Raku bowl looked and felt much more impressive. This is the Wakatsu touch, a stay that allows people to experience each item, design, food, and feeling with their whole heart, with no distraction.
The two rooms Wakatsu offers, each have a different vibe and theme. One is in the theme of wood '木の間',  and the other is in the theme of stone '石の間'. We chose the wood themed room that offers a generous view of the Hachiman Bori canal. Although the stone themed room has the stone bath (!!!!) and Western style beds, it had been a while since I slept on tatami floors, so I wanted to immerse myself 100% in the Japanese style hospitality.
I've always been vocal when expressing my opinions about ryokans – I feel that the few that I've come across try to hold on to their 'charm' for too long and are resistant to updating or change…when in reality, a big facelift is much needed. Of course some people actually enjoy this, and of course this doesn't apply to all ryokans. So when I come across old ryokans that realize the need to upgrade, or new ryokans and hatago that have got this right, I get excited. In terms of good hospitality and good design, Wakatsu definitely scores a 100.
The dinner experience was no exception. The restaurant darkly lit, the room silent with no music. The dead silence did make me feel slightly awkward at the start but then it clicked! – ok yes, I am enjoying the natural ambience where I am able to focus so clearly on what is going on around me, including being able to hear the sound of Matsutake mushrooms being chopped up right in front of me. The chef, who once ran a restaurant in Ginza, Tokyo, mentioned that he sources most of his ingredients from Shiga, including fresh vegetables and the famous Omi-beef.
Initially there was concern that Hatago Wakatsu was in, what some (e.g. I) say, is in the middle of nowhere, and it's true, there are really not many attractions in close vicinity. However, just like how people used the Hatago in the Edo-period as a place to rest between their journeys, Wakatsu is somewhere you want to spend as much time as necessary to heal, eat, and feel rejuvenated in order to continue on with your journey – whether that's travel or the journey of life.
Words: Sara Aiko
Photos: Sara Aiko
Hatago Wakatsu: www.wakatsu.jp