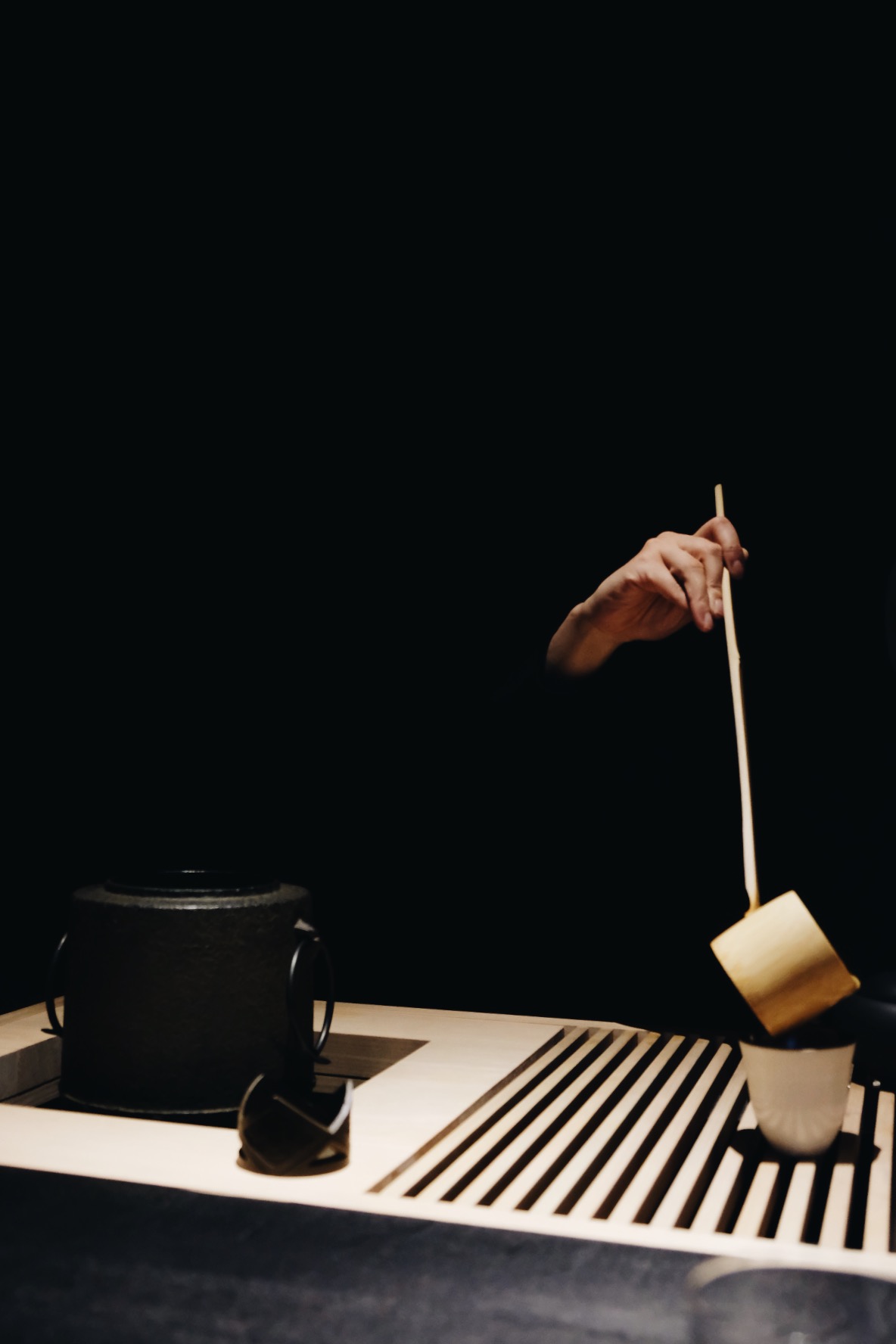 Spaces
T.T/Sabi-In with the old
KYOTO
Walking down the narrow stone paths of Gion, Kyoto's famous entertainment district, you will find the streets are lined with traditional machiya townhouse, hidden kaiseki restaurants, and exclusive teahouses where every so often you see a geiko step outside, take a deep bow towards her sisters, and then disappear into the night. They call Gion the "heart" of Kyoto, a historic area preserving tradition and classic Kyoto culture. It's not somewhere you'd necessarily expect an up-and-coming global fashion designer to open a shop… but Taiga Takahashi did just that.
Contemporary artist Taiga Takahashi, a young Japanese artist also based in New York, opened an art practice space T.T in a back alley of the popular. Hanamikoji Street in December, 2021. The two-story space houses a shop selling his products, a gallery space, and a tea ceremony room called Sabi. Just like his clothes, the design of the space is minimal, classic, and mysterious. "I wanted the shop to remain somewhat exclusive", Taiga says. "From the outside, you can't really tell what it is. Only the truly curious will step in." Taiga chose Gion as the location because he felt that opening a modern shop in such a traditional area was aligned with the concept of his fashion brand. "With my clothing, I rework and revive styles which are around a hundred years old. I give them a different meaning, a second life. I translate them into a language people understand. And with this shop, I wanted to create a new experience for people to enjoy".
Taiga, who has both studied and worked overseas, describes his life as a mix of globalization and localization. Having seen and experienced many things overseas, Taiga views his home country through a different lens, which he believes has given him a newfound appreciation for Japanese culture. Originally, Taiga was planning to only open a retail shop with a small tea room, but as he went deep into his planning the idea of creating a tea room grew bigger and bigger until the idea eventually turned into the tea salon called Sabi. "Rather than just coming here to buy clothes, I wanted guests to actually experience and feel the culture," says Taiga. The more he researched, the deeper he fell into the world of tea. "Architecture, art, the Japanese sense of beauty… It all relates back to tea." Since Taiga is not trained in traditional tea ceremony, he didn't want to recreate a classic environment. Instead, he wanted to create an experience where guests can enjoy the essence and intimacy of a traditional Japanese tea ceremony in a more experimental setting.
Just like a traditional tearoom, Sabi is dark, rustic, and intimate, allowing the host and guests to immerse themselves in the experience and focus only on what is in front of them. The tea pairing course is made up of five different sweets paired with either alcohol or non-alcoholic beverages. The private space allows the guest and the host to be in close proximity, just like a classic tea ceremony, and guests are able to see their drinks being made right in front of them. The sweets are playful and inventive, incorporating Japanese ingredients such as plum, miso, and genmai brown rice.
Because Taiga wants Sabi to be a place where guests can experience "the old", the tea salon on the second floor is decorated with Japanese antiques. Meanwhile, his shop and gallery downstairs serve to showcase "new", more modern work such as the contemporary sculptures he designed himself. Taiga trained under stonemason Masatoshi Izumi, who was a lifelong collaborator of Isamu Noguchi, one of the most culturally significant sculptors of the twentieth century. Taiga still gushes about the experience, and was greatly saddened when Izumi passed away in late 2021.
Taiga's clothing stands out where it is exhibited downstairs in the modern, renovated white space. Taiga says that he didn't want to change the space too much so that visitors can feel the original essence of the old machiya townhouse when they walk in. "We didn't touch the exterior, but we retouched the interior. But we chose to use material the same age as the original machiya. Some of the material and wood is even older."  Again, the concept of using old materials cycles back to the original concept of his fashion designs. "The quality of my clothes isn't something that can be felt through photos. They aren't really photogenic. Rather, you understand their value through feeling the texture, understanding the history, and seeing the craftsmanship up close. The foundation of this building comes from the same concept."
Words: Sara Aiko
Photos: Sara Aiko
T.T: https://www.instagram.com/taigatakahashi/