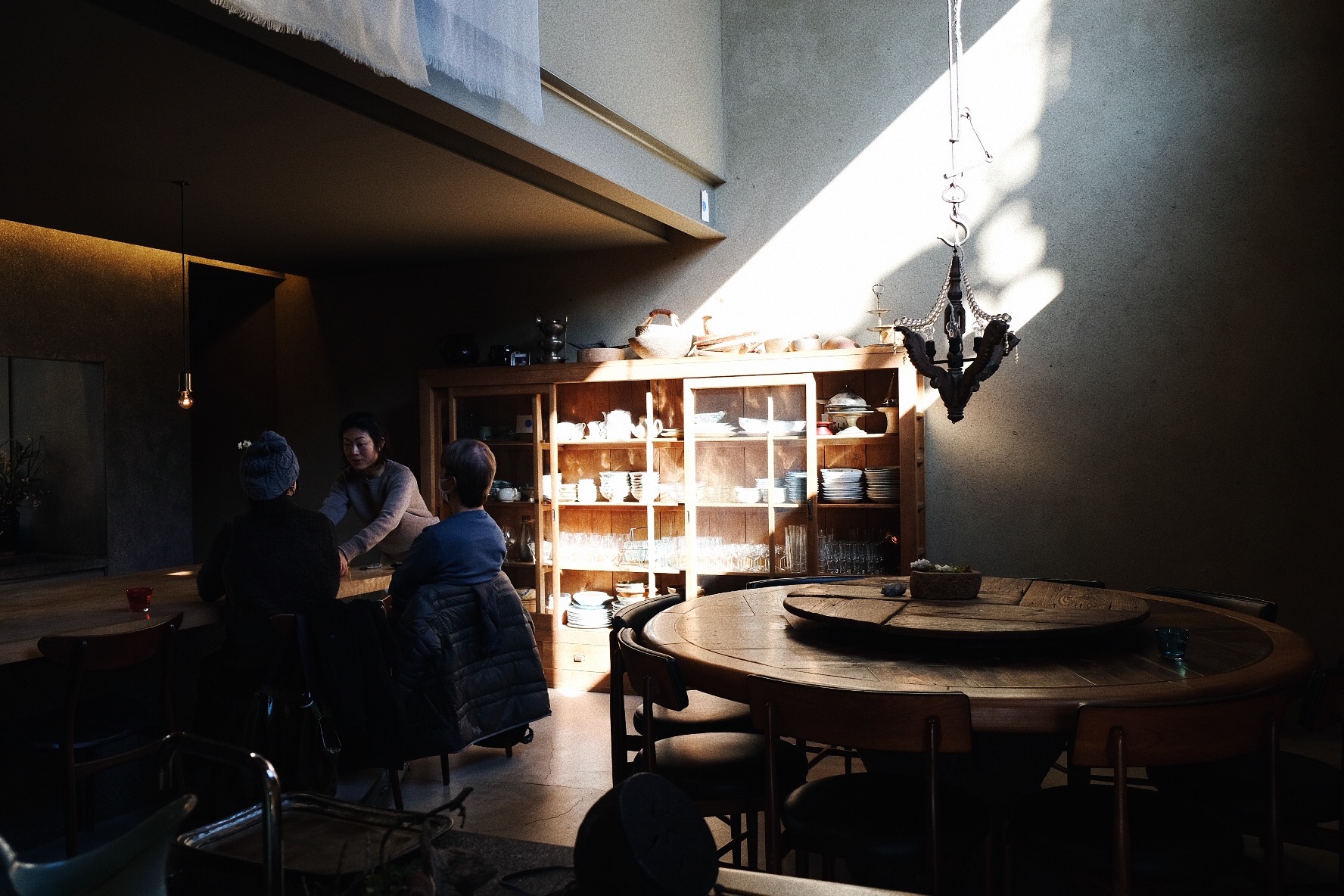 Spaces
FARMOON- Food and senses – a culinary journey
KYOTO
The sunlight shined through the generous sized window, casting shadows in every corner of the beautiful rustic space, chef Masayo came up to me and gave me a warm COVID-approved hug. She passionately told me about her culinary tales, about visiting the countryside, and how her mother sometimes teaches tea ceremony upstairs. I had no intention of writing about the restaurant prior to this visit (just a casual visit), but here I was, once again captivated by the magic of Farmoon.
As soon as you push through the heavy glass door, you enter into chef Masayo's world; aging textured walls, a sole wooden chandelier made from an Indian artifact, a collection of plates and bowls which look like they each trotted over from a different corner of the globe, everything reflects Masayo's taste and life journey.
As a former artist, chef Masayo studied in New York. The big apple was where she really began getting interested in cooking and delved deep into the culinary world. From there her passion for cooking took her all around the world, as both a student, and as a teacher. And not long after Masayo took over the space, the former 10 year old machiya house was converted into a restaurant where guests would soon be made to feel like they are in a different realm, one that knows no borders.
To bring her vision to life, Masayo hired Teruhiro Yangihara, a renowned interior designer and a long time friend. He is best known for his cross designs and craftsmanship, through which he creates intimate spaces which are both timeless, and borderless. With Farmoon, it was mentioned that he took on Masayo's request to create a space which she herself felt comfortable in, but also one where guest chefs from all around the world could come and enjoy cooking for pop-up events.
It's not only the interior that makes you feel like you're in a different world, Masayo, who has travelled the globe, brings the whole world to you through her culinary creations. By day, Farmoon is a tea salon serving teas and homemade cocontions, as well as some sweet delights which are a reflection of the season and the chef's own creativity. But by night, things become much more exclusive; the restaurant turns into an 'ichigen-san okotowari' restaurant – where guests must be introduced in order to secure a seat. This 'members only' style restaurant is common in Japan, it ensures that their regular guests are well taken care of and that they are happy and content. It's a trust system that builds a relationship between the restaurant and its guests.
As of 2020 (otherwise known as the year of COVID), non-members have been able to enjoy Masayo's culinary creations as well, through a less restricted affair – pop up lunches and events. If you're visiting Kyoto, it's a good idea to keep an eye on the restaurant's Instagram account. Past events have included a Mexican themed brunch, a collaboration event with renowned Tokyo chefs, and even a piano concert.
In a world where traveling has become an absolute luxury, Farmoon has become a place for locals where they can escape from reality for a little while and be transported into a realm of good food, good vibes and good design.
Farmoon Kyoto: Farmoon (@farmoon_kyoto) • Instagram photos and videos
Words: Sara Aiko
Photos: Sara Aiko