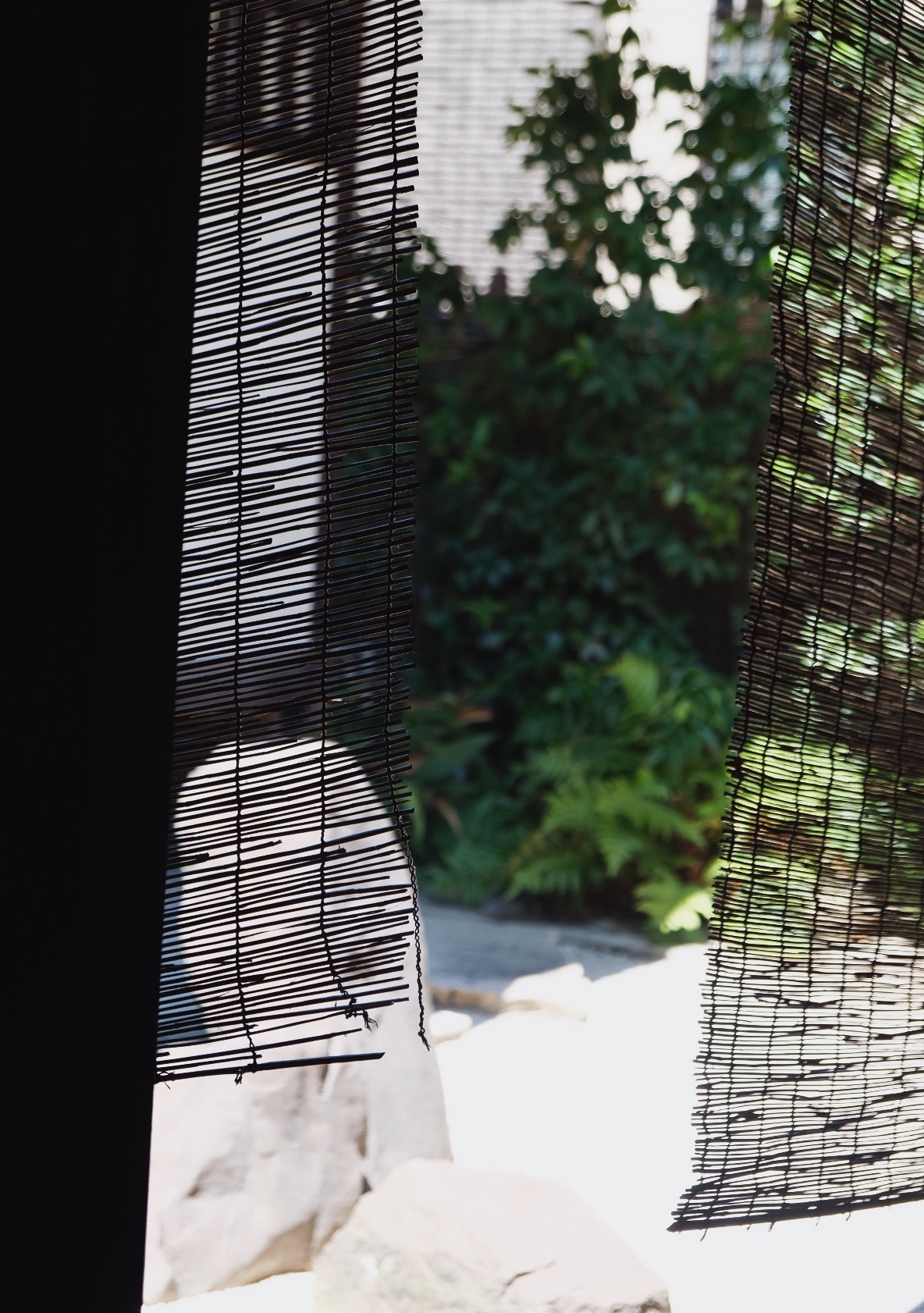 Spaces
SHIGEMORI MIREI MUSEUM- Timeless Modernity
KYOTO
"That light hanging from the ceiling was given to my grandfather by Noguchi Isamu." That's Mitsuaki-san, casually name-dropping as he pointed at the beautiful round light hanging from the ceiling. As we sat seiza position in an old Edo period house in the middle of a Kyoto summer, it felt like the room was 100 degrees and a waterfall of sweat was forming underneath my face mask… However, I was happy to be in that gorgeous tatami mat-floored room surrounded by legacy and creativity.
"My grandfather became good friends with him in the 1950's as they worked on a project in Paris together," he continued. His grandfather? His grandfather is Mirei Shigemori, one of the greatest landscape designers in Japan and one of my favourite Japanese artists. And here I was with a very damp face mask and humidity hair, sitting inside the great artist's former residence (now a garden museum) chatting to his grandson about art, gardens, haters and typhoons.
Unfortunately, Mirei passed away in 1975, but his gardens were sculptures, works of art, masterpieces… Mirei was an artist. A few considered him to be a "rebel" artist who didn't deserve to be called a landscape designer. Haters— they're around no matter what year we live in. Mirei studied art before designing gardens and loved working with stones. Between 1924 and 1975 he created over 180 gardens around Japan. While Mirei was influenced by Western philosophy (all five of his children are named after Western philosophers) and Western art (he changed his name to Mirei because he loved the French artist Francois Millet), known for sometimes using unconventional materials such as tile and cement, there was always an underlying essence of traditional Japanese landscape and design. Now people call his gardens "eien no modan", which means "timeless modernity" in English. Even after 70 years, his gardens still don't look outdated.
His grandson Mitsuaki-san is also an artist, though he doesn't touch gardens. "My grandfather told all his children and grandchildren not to become landscape designers," he told me. This was because Mirei's work could not be passed down. His design didn't have a template or a formula, but was more "primitive", as Mitsuaki-san explained.
When I asked if I could see his artwork, he sheepishly pointed at the scroll that hung from the wall behind me. "This is my work," he said in the quietest voice. His work was created with Japanese sumi ink. Three round circles. Simple. It was the type of work that managed to be beautiful and expressive in its simplicity. The type of work that it is so simple one might think they could recreate it at home themselves, but of course we know it's always the simplest of work that is hardest to master. However, Mitsuaki-san no longer focuses on art. Rather, he is dedicated to looking after the museum- so dedicated that in typhoon season he is constantly on watch in case he needs to close the museum. He also passionately talked about how he uses an international weather report website to catch typhoons ahead of time.
After we moved on from talking about weather, he mentioned the name Hiroshi Sugimoto. I quickly and proudly said, "Sugimoto-san, Sen no Rikyu, and your grandfather are some of my favourite Japanese artists." It was my turn to name drop. Mitsuaki-san paused for a second and then replied, "In a magazine article, Sugimoto-san said that he didn't like my grandfather's gardens. He believes they have no Japanese essence." My face turned red. I was embarrassed that I put his grandfather in the same category as a man who didn't "get" his design. "I hope one day he takes a better look and understands my grandfather's work", he said. I didn't want to think of Sugimoto-san as a hater, but more of a challenger. He was challenging Shigemori's work.
I left with the promise to return in winter, as he told me that "the garden is prettier with less sunlight and fog." This morning, I received an email from my new friend: "There is a typhoon coming according to my website. Please watch out."
And just like that, I am now on Mitsuaki Shigemori's typhoon watch list.
Words- Sara Aiko
Photos- Sara Aiko
Shigemori Mirei Museum: